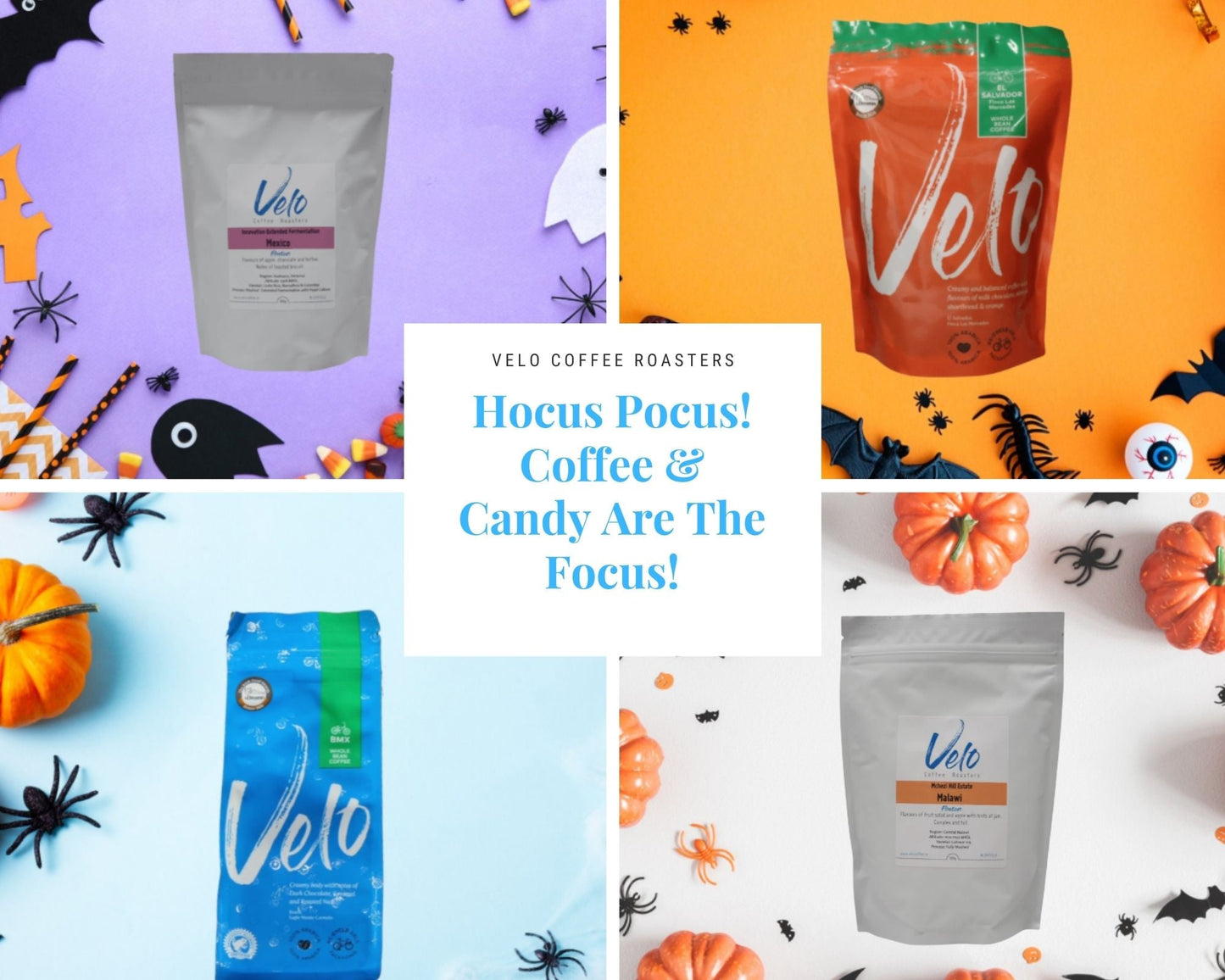 Hocus Pocus! Coffee & Candy Are The Focus!
There's nothing scarier than no coffee to go with your Halloween candy!
The spookiest time of the year is upon us! Goblins and ghouls and witches - oh my! If you're a zombie most mornings before your cup of Velo coffee, don't worry - you are not alone! Get festive and nostalgic this month and pair your favourite cup of Velo coffee with your favourite Halloween candy! We have some hauntingly good recommendations for you this year! 
Remember your favourite candies or chocolates you'd get from trick-or-treating as a kid? You would spend the night running around with your friends on a sugar rush! Now fast-forward to adulthood (back to reality - BOO!) We have a few scary good coffee and candy pairings for you. Read along for a "ghoul" old trip down memory lane!
When you knocked on your neighbours' door on Halloween evening as a kid, there were some sweets you hoped they would drop into your bag, like Cadbury's Dairy Milk. This is by far one of our favourites too - it's a classic! No matter your age, you'll always love a Cadbury's Dairy Milk chocolate bar. This is why we think to pair it with our very own BMX coffee - a classic! BMX has rich notes of chocolate, dried fruit and nuts, and sugar.  A perfect, classic pair between Dairy Milk and BMX!
This next pairing will give you a BOOST for sure! Cadbury Boost and our award-winning El Salvador Fincas Las Mercedes! The coffee has delicious flavours of milk chocolate, almond, shortbread and hints of orange, while Boost has flavours of biscuit, sweet caramel, and of course- chocolate! You can never have too much chocolate, especially on Halloween! 
If you were a rare child who preferred chewy to chocolate, we have a pairing just for you! Remember Milk Teeth? With flavours of vanilla and strawberry, have a cuppa our Malawai Mchezi Hill Estate coffee! This coffee has flavours of fruit salad and apple with hints of jam, which would pair scarily good with the flavours of strawberry and vanilla! This pairing will really kick your sweet tooth into overdrive! 
The final spook-tacular pairing we have for you starts with the Wagon Wheel! A marshmallow filling, sandwiched between two delicious biscuits, and generously coated in chocolate - certainly sounds like a sugar rush! If your favourite candy was the Wagon Wheel, and you're looking for a new favourite coffee to go with it, look no further than our Mexico Innovation Extended Fermentation coffee. With flavours of apple, chocolate and toffee with notes of toasted biscuit, combined with the Wagon Wheel, it'll taste just like a delicious, gooey s'more! 
Well, like the Halloween mummies, that's a wrap! (Trick) and treat yourself this Halloween to feelings and flavours of nostalgia!
Witching you a Happy Halloween from Velo!