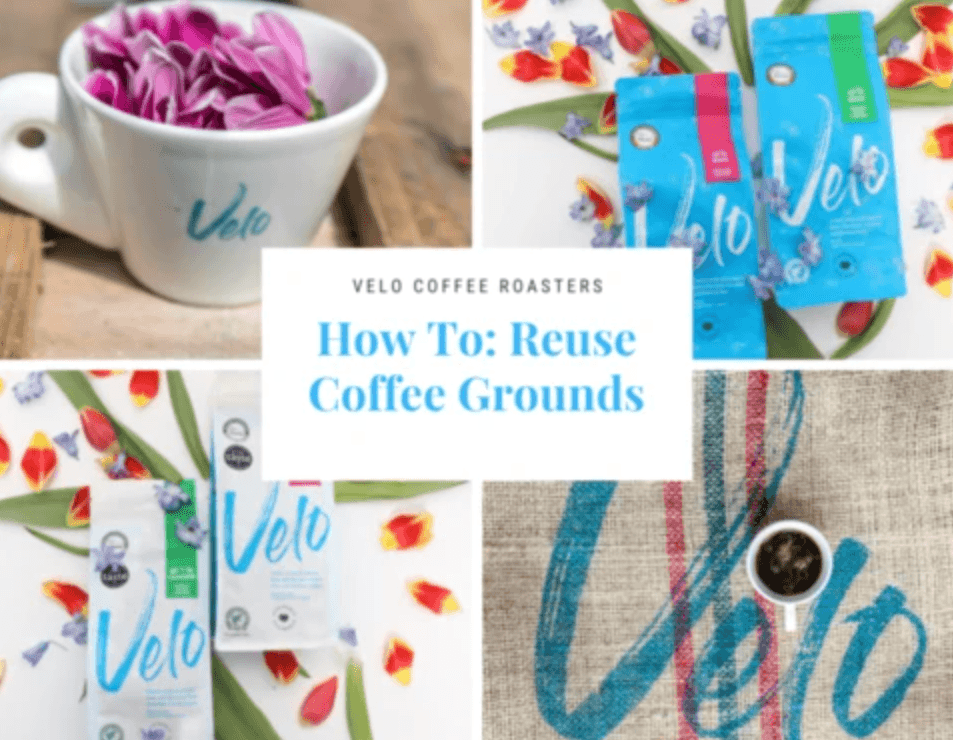 How to: Reuse Coffee Grounds
Did you know that there are a variety of ways you can sustainably reuse your coffee grounds? Coffee grounds have many practical uses around the home and garden. They can also be introduced to your (and your pet's) skin care routine! Read along to find out how!
"One person's used coffee grounds is another person's treasure"
So, you've just finished yet another cup of coffee and you are wondering what to do with the leftover ground coffee beans. Instead of giving your bin a brief-lasting coffee scent, there are a number of other ways you could put those coffee grounds to good use without being wasteful! Coffee grounds have many practical uses around the home and garden, and can even be incorporated into your skin care or beauty routine!
Now get ready to take a note or two, make another cup of coffee, and plan how you are going to incorporate those leftover grounds into your daily life!
Oust Odours!
Spread your used coffee grounds onto a baking sheet and allow them to dry. When the grounds have dried out, put them in a bowl and leave them in your refrigerator or freezer overnight to neutralise odours. The same method can be used to remove odours from wardrobes, presses, etc.! 
Repair Scratched Furniture!
If you own wooden furniture, then you know the horror when you notice the furniture is  scuffed and scratched! Have no fear, coffee grounds are here! Mix coffee grounds with water to create a thick paste. Next, use a cotton swab to rub the paste into the scratch. Allow the paste to sit for 5-10 minutes (you can use this time to check out what's new on Velo Coffee Roasters website!) and then wipe with a cotton rag. This should help to buff out the scratch, and you can use the coffee paste to conceal the scratch by dying the wood to match. Continue to dab the coffee into the scratch with a cotton swab, but wait an hour or two between applications!
Grow Your Garden!
Coffee grounds are highly acidic, which will be a perfect match for any acid loving plants. If you have plants like azaleas or hydrangeas, spread the coffee grounds over them to get some bigger blooms! You can also give your seedlings a nitrogen boost by stirring the grounds into a watering can before caring for the seedlings! Certain vegetable seeds such as carrot and radish seeds will flourish if you mix them with coffee grounds before planting them into your garden.
Banish Bugs!
 Coffee contains diterpenes and caffeine (wow, really!?) which can be highly toxic to insects. Coffee grounds can help to repel bugs such as mosquitos, fruit flies, and beetles to name a few. All you need to do is put out bowls of coffee grounds, or sprinkle them around areas you are trying to repel the bugs from, such as an outdoor seating area. This can be used in your garden as well, by scattering coffee grounds around plants.
Add Shine and Length to Your Hair!
Exfoliating your scalp with coffee grounds can help remove build-up and dead skin cells from your hair and scalp. The caffeine found in the grounds has also been found to stimulate hair growth! Before you shampoo your hair, grab a handful of coffee grounds and massage them into your scalp for 2-3 minutes. Then wash and rinse your hair as normal!
Fun fact: If you're a brunette or a darker redhead, this one is for you! By rinsing your hair with strong cooled coffee, you can make your hair much shinier without looking oily.
Smooth Your Skin!
Coarse coffee grounds work as a fabulous exfoliant to help remove dirt and dead cells from the skin. Make your own 'Coconut-Coffee Scrub Shower Bar' at home! Just melt some coconut oil in the microwave (be careful not to let the oil get too hot and begin to bubble!) After you've melted the coconut oil, add a generous amount of the coffee grounds and mix them into the oil. Pour the mixture into a plastic container or a mould, and let sit overnight until the coconut oil hardens again.
Once the coconut oil has hardened, next time you take a shower, use the scrub bar on your body where you may be prone to dry skin or even cellulite. This scrub can help to increase the blood flow which aids in overall skin health!
Free Your Furry Friends of Fleas!
 Even though our pets might not be having a morning cup of coffee with us, they're like family. You wouldn't want your family to have fleas (…right?) If your pet is dealing with fleas, get out the coffee grounds at bath time! After shampooing your pet's fur, rub one or two cups of coffee grounds into their fur and then rinse well. The caffeine will help to kill any fleas that may be hiding in the fur, and your pet's fur will feel silky as well!

There you have it: coffee is so much more than just a way to kick-start your day! The caffeine and antioxidants in coffee are great for skin health. Coffee grounds are full of nutrients that can help grow your garden while banishing bugs! And coffee is useful around the home and pet-friendly as well! Next time you brew a cup of coffee, think of all the wonderful and endless possibilities before you throw the coffee grounds into the bin!