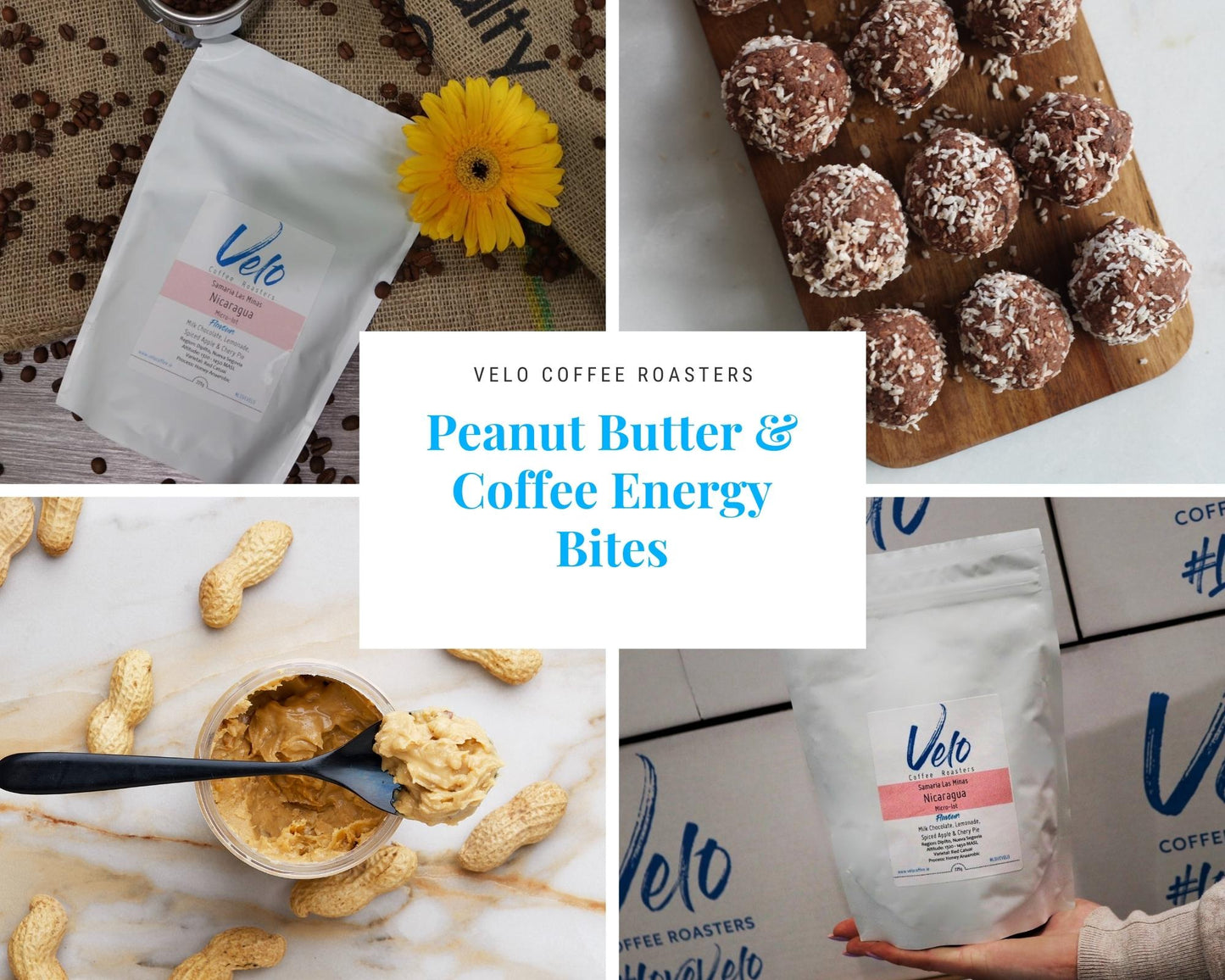 Peanut Butter & Coffee Energy Bites
Get a little pea-'nutty' on National Peanut Butter Day!
Did you know that January 24th is National Peanut Butter Day?! Happy holidays everyone! We want to help you change up your snacking and coffee game with this delicious, easy, no-bake recipe! All you need are a few simple ingredients, your favourite Velo coffee (we are happy to make a recommendation!), and of course, your appetite! 
First things first, make sure you have all of the ingredients! We are going to give you the ingredients to our favourite recipe, BUT, there is a number of substitutions or additional ingredients you can add! Feel free to mix it up with maple syrup, coconut flakes, sprinkles, honey… whatever gets your sweet tooth going! Check out our range of Monin syrups to add a little extra flavour! 
Ingredients: 
1 ½ cups (~ 260g.) of pitted medjool dates

¼ cup (70g.) of preferred peanut butter

2 tablespoons of water

2 teaspoons of your favourite Velo coffee (ground!)

1 cup (80g.) of rolled oats

½ cup (~68g.) of almond flour

Pinch of salt

¼ cup (~75g.) of mini chocolate chips
One of our favourite coffees to use for this recipe is a single origin from Nicaragua, Samaria Las Minas! This coffee has a hint of sweet milk chocolate that is balanced with notes of spiced apple and tart cherry. It's definitely a staff favourite here at Velo!
After you've gathered your ingredients, follow these quick and easy steps!
First, Combine dates, peanut butter and water and blend until dates are broken down and it looks like a paste. Then add in your ground Velo coffee, rolled oats, almond flour and salt and blend until well combined. 
At this point if it seems too dry to roll into balls, add a little more water. If it feels too wet to roll into balls, add a little more almond flour! Don't forget the chocolate chips! Add them in next and be sure to blend them well into the mixture!
Finally, roll them into balls and store them in the fridge (or eat them straight away!) We recommend that you chill them before indulging, but we understand sometimes you just can't wait!