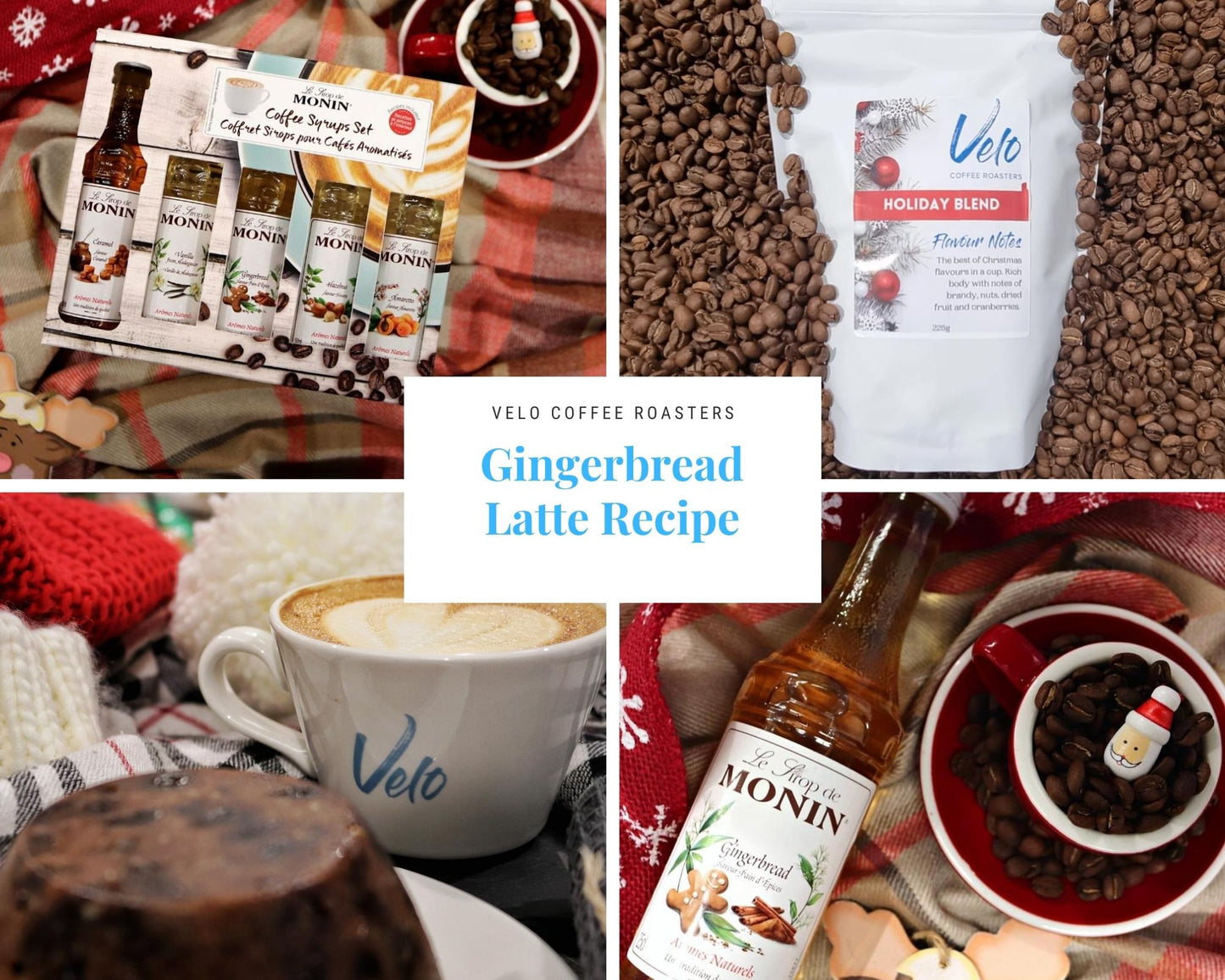 Warm up with Velo this winter with this sweet and creamy 
gingerbread
 latte! 
Ginger, spice, and everything nice!
The holidays are approaching! You might be thinking of spending time with family, getting some much-needed time-off of work, and the delicious food that surrounds the holiday season! Don't get me wrong, we at Velo are thinking of all that too! We are also thinking of all the yummy seasonal coffee flavours that come back out to play this time of year! One of our favourite's is a gingerbread latte – YUM!
Warm up with Velo this winter with this sweet and creamy gingerbread latte! 
If you are looking for tasting notes to pair well with this latte, look no further! Our
Christmas Holiday Blend
 coffee has flavour notes of brandy, nuts, dried fruit, and cranberries- this is one of our favourites for this recipe, it's like Christmas in a cup! 
Time to spice it up!
First things first, grab your ingredients:
4 tsp (20mls) of gingerbread Monin syrup (per 8oz. of coffee)

2 tbsp soft brown sugar

½ tsp vanilla extract

600mls (2.5 cups) whole milk 

125mls (½  cup) of strong brewed Velo coffee 

whipped cream and mini gingerbread men (to serve)
First mix your Monin syrup, sugar, and vanilla extract in a bowl! Heat 100ml (~3.5oz) of the milk in a pan and add the sugar and syrup mix, whisking it until the sugar has dissolved! Add in and whisk the remaining milk in small increments until it is all added to the mixture! After your ingredients are all mixed in the pan, heat through until the mixture is steaming!
While the mixture is steaming, prepare your fresh brewed Velo coffee using your preferred brewing method. If you are using espresso, you should use about 30mls (1oz.)  per drink. If you are using fresh brewed Velo coffee, you will need about 125mls (about ½ cup)! 
Now we are getting to the good stuff! 
Add your coffee or shot of espresso to each glass and top up with the spiced milk mixture! Add as much whipped cream as your heart desires, and don't forget the dash of cinnamon and nutmeg, and little gingerbread man to top it off!
Sips and spice!
Ahh, perfect! Now you can cosy up on the couch with a holiday movie, and get ready to put in your next order for Velo coffee- trust us, you'll want to be making this drink again!