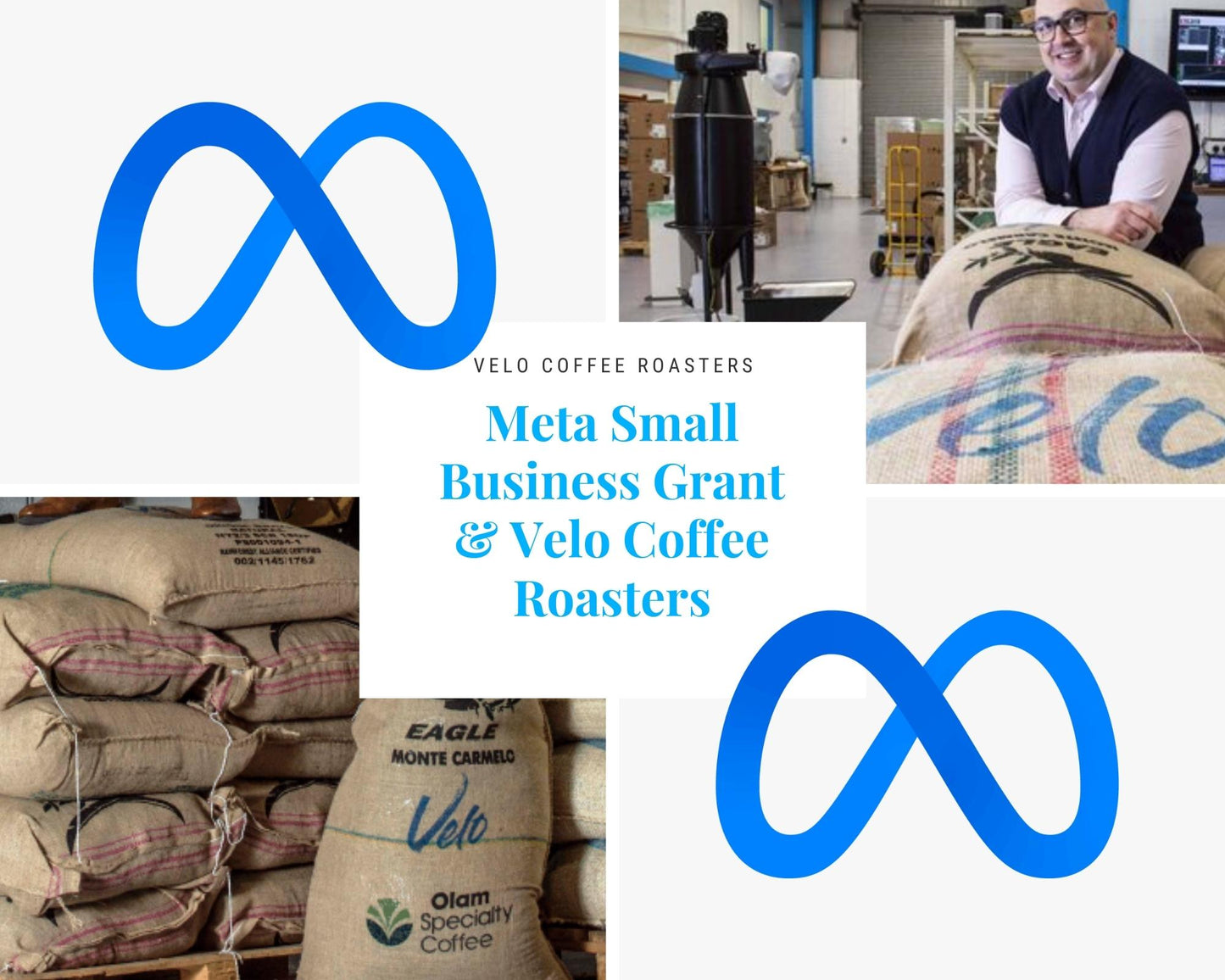 Meta Small Business Grant and Velo!
Meta Stories to Inspire: Helping Velo Coffee to rehire staff and grow its sales revenue into the hundreds of thousands. The Small Business Grant went a long way towards the success of Velo Coffee's social activity. 
Meta Stories to Inspire: Helping Velo Coffee to rehire staff and grow its sales revenue into the hundreds of thousands
From café to coffee brand...
After the birth of his son, Rob Horgan decided to leave his job working late nights in the fast food industry. In search of a better work-life balance, he bought his own premises and launched Café Velo in 2015.
Intending to run a locally-sourced, bike-themed café, he soon noticed the emotional attachment his customers had to their coffee. Intrigued, he set out to find a local coffee roaster. Rob realised he could roast the coffee himself. He found a course in Germany and started learning the secrets to great tasting coffee.
By 2017, he was roasting his own coffee, managing a team of 25 people and catering to 80 customers at any one time. With the reputation for his coffee growing, he started to sell directly to customers. He launched his coffee brand: Velo Coffee.
Creating the perfect cup...
Rob passed his coffee roasting qualification, but had to wait six months for his roaster to arrive. He was worried he might forget what he had learnt, but his fears were misplaced.
He has since won awards every year for his coffee. With growing consumer demand for sustainable coffee, Rob felt the pressure to source the perfect green coffee beans.
After devoting time and effort into finding a suitable supply chain, his efforts paid off. He found a farmer in India and soon built a close-knit partnership.
With a supplier secured, Rob got to work on developing the flavour of his coffee. He decided to offer both single origin and blended coffee to cater to the broadest range of customers. As consumer demand increased, Rob started to turn his attention towards the business-to-business, wholesale industry. He negotiated a warehouse space with foodservice distributor, Sysco, to store the coffee destined for hospitality.
Then COVID-19 struck. The pandemic put a pause on the hospitality industry—and its demand for Velo Coffee. Rob had to rethink his strategy.
All the beans in one basket...
COVID-19 didn't just stifle the wholesale business, it forced the closure of Café Velo as well. After receiving an offer, Rob decided to sell the café and focus all his efforts on Velo Coffee.
He turned to the Facebook app and embarked on a new learning curve: social media. Using the Facebook app's support tools, Rob became familiar with content creation and paid media. He redesigned his website and paid for professional content creation to boost his social media presence. While working with the Facebook app, Rob found out about the Small Business Grant and decided to apply.
After a successful application, he put the grant money and ad credits towards his new social activity. It worked. Rob was soon receiving orders from as far afield as Iceland and Malaysia. With sales generating just a few thousand Euros the year before, Rob was now seeing a 30,459% increase in online transactions and revenue in the hundreds of thousands. Forty thousand of those sales came through the Facebook app. Spurred on by the positive sales, Rob continued to innovate.
After noticing a 40% returning customer rate, he launched a fortnightly and monthly subscription service. He then turned his attention to retail. After a handful of Zoom calls, Velo Coffee was stocked in Aldi, Tesco, and Dunnes Stores.
"We wouldn't have gotten the growth that we did without Meta and the business development team behind them. We get regular emails from them offering help and are able to quickly jump on a call to see what we could be doing better with our ads. Their advice has been invaluable." -Rob Horgan
Going international...
The Small Business Grant went a long way towards the success of Velo Coffee's social activity. It arrived at a pivotal time for Rob and allowed Velo Coffee the financial space it needed to get back on its feet after the closure of Café Velo.
The space allowed Rob to rebuild his team to 13 full-time staff— focusing on logistics, social media and operations as opposed to baristas and waiting staff. With his new team, they used the ad money and credits to experiment with retargeting and geo-location. They refined their paid media strategy so it was hyper-relevant for their target audience.
Now that UK sales are slowly growing, Rob wants to break into the UAE and US markets, and continue the tour de force that is Velo Coffee.